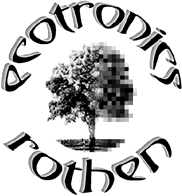 rothen ecotronics
I also design electronic logos for my customers. You may order it in marble, woodcut, enamel or in some fantasy design and in any color you can imagine.
See a collection of examples below. With a click on the small image you can always have a look at a larger one.

Perspex:


Metal:


Woodcut:


Magic Sky:

Marble Letters:


Enamel on marble

Fretwork:

Marble:


---
These web pages were designed and coded by rothen ecotronics, Bern. Last update: 05/03/18

Legal notice (Impressum, only in German)
Back to the rothen ecotronics web site
Printed on 100% recycled electrons!